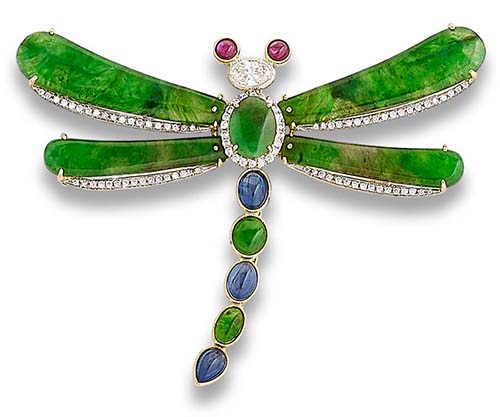 10. Celebrities Love Jade
Hollywood trendsetters revel in the rebirth & popularity of jade jewelry. Green jade drop earrings are one of the hottest jade styles going and have been spotted on many celebs...
9. Incredible Variety of Color
Jadeite jade has the most variety of color of any fine gemstone. In order of popularity, the main colors of jadeite jade are green, lavender, ice, water, black, red, yellow & white. Of course there are many variations of each color. Please click here to see Mason-Kay's renowned jade color chart.
8. Amazing Durability
Next to 'black diamond' jadeite jade is the most durable fine gemstone. It is this amazing quality that lends itself to some of the most incredible carvings.
7. Endless Jewelry Design Possibilities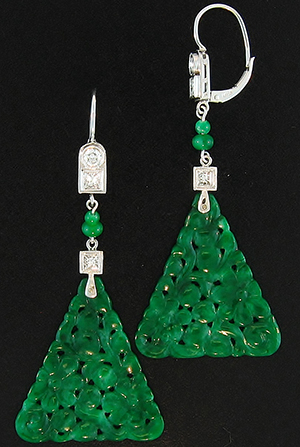 The combination of durability and color variety lends itself to amazing jewelry designs. One of the most popular and coveted styles for the Chinese are the triple rings. There are even entire necklaces of continuous carved jade rings. In these times of rising gold prices, jade is one of the only fine gemstones that can stand alone as jewelry without any metal. This has been an increasing trend for some time. Cutters and designers are able to use jade for rings, bangles,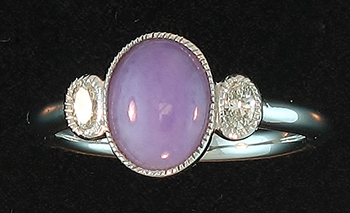 necklaces and bracelets.
6. A Wearable Investment
Jade is a wonderful way to wear beautiful fine jewelry that is also a stable investment. The popularity of jade jewelry has been increasing worldwide for some time and a growing middle class in China keeps the demand for jade strong and the jade markets vibrant.
5. Luxurious Feeling
Nothing feels better against the skin than Jade. In fact, in China jade is thought of as a living entity whose color can be affected by the health of the spirit and body of the individual wearing the piece.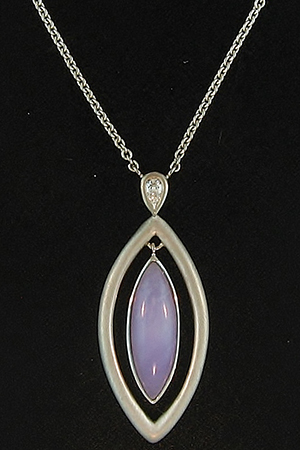 4. Artistic Symbolism
There is an ancient Chinese saying 'Gold has its price, but Jade is priceless'. Jade has been coveted for many centuries and is a symbol of all things fine and noble. Symbolism & Folklore is a powerful force in China and jade lends itself to the artists and carvers that can merge the
beauty of the stone with the artistic symbolism.
3. Accessability
Mason-Kay has made it easier than ever to discover the beauty of jade jewelry. There are two very helpful websites. MasonKay.com provides extensive information on jade, new MK jade jewelry designs, popular Chinese art symbols & their meanings, info on treated jade, care & durability of jade, access to find an authorized Mason-Kay retailer, and so much more. MasonKayShowroom.com is an extraordinary online jade showroom that puts the largest natural jade jewelry collection in the U.S.. easily at your fingertips. Search by category, price, style, keyword, style & color, or just simply browse by category and price to see the best of what Mason-Kay has to offer the wholesale and retail customer. This site is a great tool for retailers as they can show their customers the MK line in their store BUT also offer a user ID & password for their customers with their retail mark-up.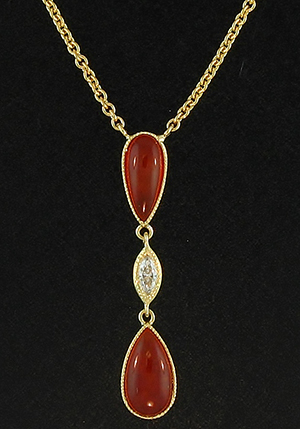 2. Award Winning Designer Jade Jewelry
Mason-Kay Jade has always been at the forefront of jade jewelry design. Many of Mason-Kay's designers have studied in Asia and have an integral understanding of the stone. There are some designers like Kristina that create individual and exclusive designs for Mason-Kay. Click here to see some of the newest MK jade designs.
1. Natural 'A' Jade Guaranteed
Many consumers and retailers are unaware of the serious and extensive problem of treated jade. There are different types of treatments and different ways of identification. Mason-Kay has the ability to test and analyze on site the genuineness of jade. Mason-Kay is currently the only commercial jade jewelry company in the U.S. to use infrared spectroscopy to test for polymer impregnation (a.k.a.. 'B' Jade).
Mason-Kay Jade is a family owned and operated business since 1976. In that time Mason-Kay has earned a reputation for the finest in jade jewelry, loose jade inventory, and jadeite jade knowledge and experience. Mason-Kay Jade Jewelry is a wonderful alternative to the traditional jewelry choices and a fabulous addition to any jewelry collection.
Please do not hesitate to

email us

with any questions or comments. Thank you!