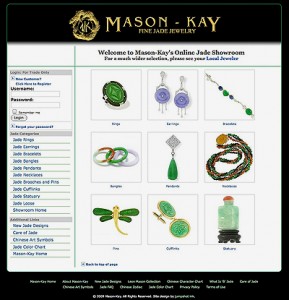 Jewelry retailers are always looking for the newest selling tools. Mason-Kay Jade provides the best natural jade jewelry resource on the web. The Mason-Kay Jade Jewelry Showroom offers an online showroom for you and your customers. While not a 'point of sale' site to choose and pay for merchandise, it is designed to preview and request currently available pieces for consideration. The site has been very carefully designed to be user-friendly, with simple searching capabilities, and easy communication with Mason-Kay.

3 Ways To Shop
General Viewing & Purchase Consideration – browse our entire online inventory

Memo Program - Start, Re-Start or Re-Fresh – browse items available immediately (items not already out on memo)

'Set-Up My Retail Customer'- A retailer can very easily provide their customers with their own password for direct showroom access at their desired mark-up. The retail customer has no direct contact with MK, but does contact the store directly with their requests.
3 Ways to Set Your Retail Mark-Up
Choose to show no prices – upon searching, items will not show prices but will still appear in price order, lowest to highest cost

Set a constant mark-up – the same mark-up will be applied to all items

Set a sliding mark-up based on price range – retailer can apply up to five different mark-ups for five price ranges
Pricing
The prices are all listed at Keystone for those in the trade, or at the desired mark-up set by the store for their customers.
Searching
Simple search – choose jewelry category to browse, then choose price range. Choose color if desired

Advanced search (optional) – if desired, choose shape, design, metal, diamonds, keyword, and more.
Access
You can preview the site without a username and password, but to see all the items with prices, you must request login access. To register for the showroom and obtain your login info please click here to complete a short registration form.
Help
Mason-Kay can help you register, learn to navigate the site and set-up your customers. Whether you have already registered or will soon, it would be our pleasure to familiarize you with our online jade showroom. Please call 800-722-7575 or email kris@masonkay.com.
It has never been easier to search our available inventory and offer hundreds of natural jade jewelry possibilities to your customers.
Enjoy!