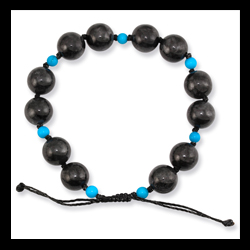 Hey everyone, it's me again, Kristina Mason a.k.a. #KrisTheJadeLady! I wanted to talk to you about some of the new hot trends in jade jewelry this year so far especially jade jewelry for men. Jade jewelry has been a hot item for some time and its popularity has increased every year for many years. Consumers have become savvier about Natural vs. Treated Jadeite and are learning what to look for to protect themselves from the dishonest and clueless.
As a leading natural jadeite jade jewelry company in the U.S., we feel obligated to assist. Our main website provides all the information a consumer needs to learn the basics about jadeite and how to look out for signs of treated jade.   
Having said all that, we only deal in natural jade, whether it is natural, untreated, Type A Jadeite Jade, or natural Nephrite Jade (most of our black jade jewelry). I think in general consumers have become so knowledgeable and once you understand the difference, you would never want to wear or give treated jade.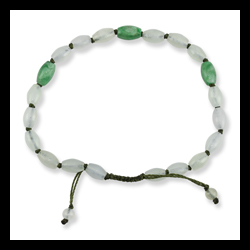 I would have to say that one of the most popular jade jewelry categories is our Adjustable Jade Bead Bracelet Collection. I am working on designing more now because these have been so hot that I cannot design them fast enough.
Why are they so hot? Um, they are gorgeous! Colorful, easy to wear and great prices! Also, since we string them with no gold accents or clasps, it helps keep them at affordable prices. It is my daily goal to design jade jewelry that everyone can afford and love. I truly believe in natural jade, in the healing and soothing properties and the amazing feeling against your skin! So, I want you all to wear jade! And once you wear jade, you will want to wear it daily and forever! Jade is definitely #ThePotatoChipsofGemstones, you can't just have one piece!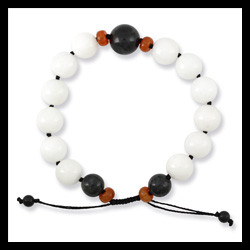 Our jade bracelets are designed in a variety of colors and styles, including on the smaller side of 3-4mm beads to larger rich 10-12mm beads and every size bead in between. These all have an adjustable slide closure allowing you to adjust to the perfect wrist size. They are strung in basic sizes (approx. S, M & L) with very strong, durable cord, and the slide closure allows you to adjust them perfectly for you!
Men are loving jade in 2023. Men's jewelry largely has been an important topic in the jewelry industry due to the notable increase in men's jewelry popularity and sales. Men absolutely love these jade bracelets. Men's jade bracelets have come a long way in the colors and designs that are now so fashionable. Men's jade bracelets are not new, but jewelry for men in general has been trending upwards and especially in jade jewelry for men. Natural Jade is one of the most durable gemstones, 24 times stronger than black diamond! This durable nature of jade stones makes jade the perfect gemstone for mens jewelry.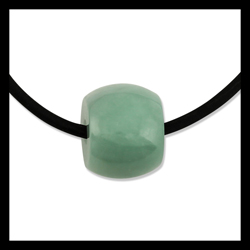 Some men prefer the smaller beads and wear one with their watch or stack them, others prefer the larger beads making a stronger statement and enjoying the weight of the beads. These bracelets feel amazing to wear and give you the perfect daily opportunity for jade love!
Other jade jewelry categories have also been hot with men this year. Men's jade necklace styles have been growing along with the acceptance of new and different designs for men. Men's jade necklaces have evolved greatly from the simple gold chain of the 70's, to include leather, jade, layering, beads and even pearls! Thanks Harry (Harry Styles of course). Here at Mason-Kay Jade we have known how fabulous jade is on men. Besides our jade bead necklaces, our most popular styles this year for men's jade necklaces are either carved jade beads or smooth on rubber cord or steel chain.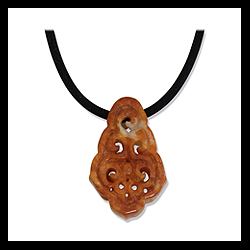 Jade also makes the perfect gift, and these bracelets are easy to give. Jade carvings and art symbols have many meanings and symbolisms, but so do the natural jade colors themselves. So not only have these bracelets been a hot seller with men but also for men. Green jade symbolizes prosperity, health, and balance; black jade represents strength and leadership; grey jade symbolizes wealth; red jade represents joy, happiness, and celebration and so on.
So maybe jade jewelry should be trending! So many vivid, natural colors, Classic, Designer and Estate Jade Jewelry Designs to choose from, symbolisms and meanings of jade carvings and colors and thousands of years of jade history and lore like the ancient Chinese saying, "Gold Has Value, But Jade Is Priceless". We at Mason-Kay, of course agree! We love jade and hope you will too!
Thank you, Kristina Mason