To be honest there are very few trends in the jewelry industry that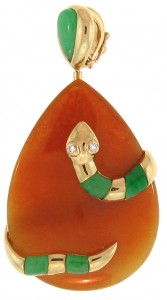 jade
cannot match. Jade is by far the most versatile fine gem in the world. It is easy to espouse the virtues of jade as there are so many avenues of merit. The color range, the shape and carving possibilities and the design potential are unparallelled.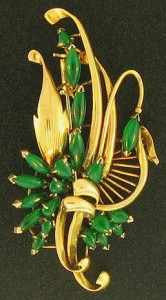 This fall presents us with some fun and unique jewelry trends. Many we have seen time and again and are pleased at their revival. Classic styles including crosses, floral inspired and vintage jewelry will all be hot styles this fall. Vintage in general has been very strong in the fashion scene for the past few seasons, but this fall Vintage/Estate Jewelry is quite hot.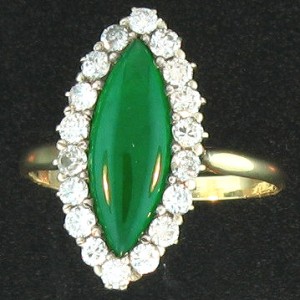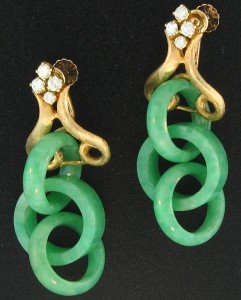 To the left is a beautiful
green jadeite jade
and 14K yellow gold estate pin (#300729). It is this type of classic jewelry that is making a comeback. To the right a simple yet elegant green jadeite marquis stone set in a timeless mounting with diamonds (#308077). The continuous triple-ring earrings (#307223) to the right are a perfect example of desirable estate jade earrings. The continuous triple rings are a coveted design by the Chinese and all that appreciate the art of the carving and the beauty of the jade.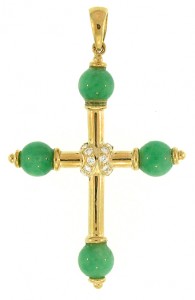 Crosses are a considerable trend this fall, from large to small, simple to intricate.
Mason-Kay
has quite a variety of jade cross jewelry. To the upper left is a beautiful, apple green jade bead, diamond and 14K yellow gold cross pendant (#234680). Here to the right a simple red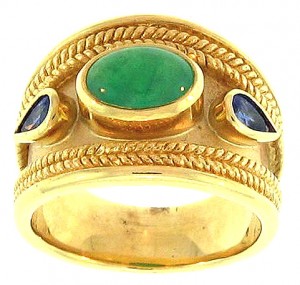 jadeite jade cross pendant (#031760). The earrings to the left are comprised of small, green jadeite jade round stones forming a cross design set in 14K yellow gold (#294868).
The floral motif has been building in the fashion world for the past few seasons; not necessarily in terms of bold, floral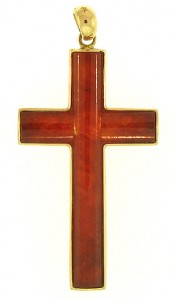 prints, but more towards accessories. Flower jewelry is on the list of most top jewelry designers.
Mason-Kay
provides a beautiful selection of floral jewelry as jade lends itself to spectacular jade flower carvings. The lavender jadeite jade flower above has been designed as an impressive clasp. It features six diamonds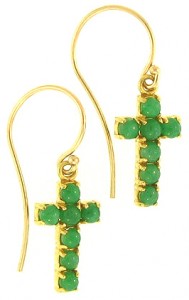 as the flower's center (#283671). To the upper left is a very popular
Mason-Kay
design. A carved black jade flower ring with white gold and diamond center (#303072). Black is always 'in' but black jewelry is a hot topic this coming fall/winter season and the topic of our next
blog
post - don't miss it. The special stick pin to the right is a perfect example of a classic jewelry design revival with trendy motif. This 14k yellow gold stick pin features a beautiful, apple green jadeite jade flower carving with diamond center (#233652).
The last two distinct trends for jewelry this fall/winter are bold rings and bold color in general. The heavy 18k yellow gold ring to the left represents all of the beauty of fine gold jewelry with the exceptional color of the oval green jade stone and blue sapphire pear shape side stones (#288744). The large oval black jade cocktail ring to the right with ruby and diamond side stones feels as good on your hand as it looks (#303508).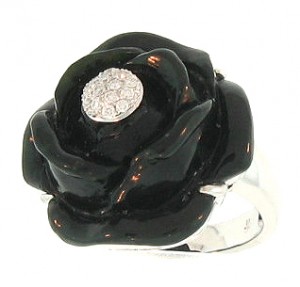 Layering jewelry has become a very popular way to add color, texture and flair to your ensemble. Jade bangles are the best anchor piece for a collection of bangle bracelets. Adding a variety of color choices and designs to choose from jade bangles work beautifully in conjunction with metal/gold bangles, wood bangles, resin bangles, and so on. The lavender and green jade carved bangle shown above to the left (#309807) will work well with black or white jade bangles as well as white gold b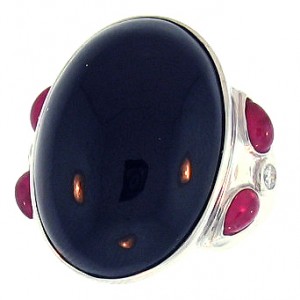 angle grouping. In the same vein, layering necklaces could not be more trendy. The necklace shown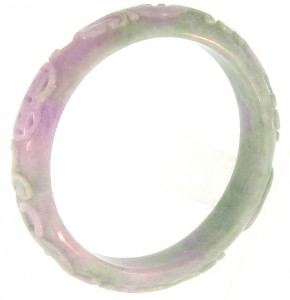 to the upper right is comprised of three jade components - smooth lavender barrel bead, carved apple green jade carved round barrel bead and yellow jade carved round barrel bead - strung on a black silk adjustable cord (#307735). The colors in this necklace will compliment any ensemble and works well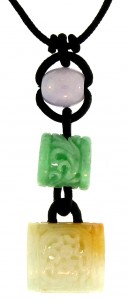 on its own or in a layered look.
This jade disc necklace is colorful, unique and certainly bold (#298132). Most of
Mason-Kay's vast jade inventory
is comprised of original, colorful and exquisite jewelry. We look forward to you finding that special piece to add to your jewelry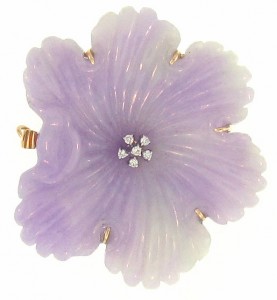 collection and would love to help you in your quest.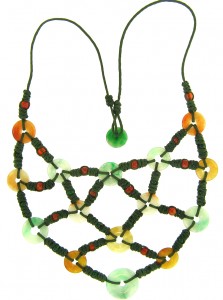 Please feel free to search our online jade showroom at
www.masonkayshowroom.com
.