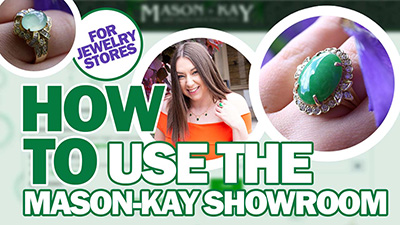 PLEASE CLICK HERE OR ON THE LINK ABOVE TO LEARN ABOUT OUR UPDATED ONLINE JADE SHOWROOM!

We at Mason-Kay Jade have been specializing in natural jade since our inception 1976. We offer certified natural jadeite jade jewelry, loose stones, carving, bangles, beads, statuary, gifts and more. We sell and buy natural jade and we offer jade testing and valuation services.
We at Mason-Kay Jade are always working on ways to improve our customer care and service for both our wholesale and retail customers. The Mason-Kay Online Jade Showroom is a perfect example. The showroom website was designed for our wholesale customers. It is a website that allows Mason-Kay approved vendors to view and search much of our natural jade jewelry and loose jade carving inventory. This amazing tool is not only helpful for our wholesale community, but it also offers them the ability to better assist their retail jade customers.
And now the showroom is even better. We have just launched the updated version of this site. So now it is even easier for you and your customers to browse over 1,000 pieces of natural jade everyday, anytime!
This video, created by our Brand Advocate Jordan, is a wonderful tutorial. Jordan takes you through all the steps to easily navigate your way through this wonderful application. She will show you how to login, how to obtain login credentials, and how to search for what your customers are interested in. Please note that we do not show our loose jade cabochons on the site. If you are looking for a cabochon or do not find what you are looking for on our website please do not hesitate to call. We are always here to help with all of your jade needs.
Come see us at the AGTA GemFairs in Tucson, Las Vegas & Denver. Visit our Trade Show page on our website for details. 
Again, please contact us with any questions. Thank you, Kristina Mason