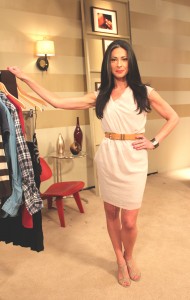 Like me, I know many of you have been waiting for the new season of
TLC's 'What Not To Wear'
. Ready to route for fashion experts Stacy London and Clinton Kelly as they coax, cajole and eventually convince the fashion-clueless into a complete fashion transformation.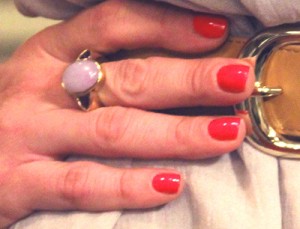 This season is especially sweet as one of our jewelry pieces appears in an episode. In the latest episode of ''
What Not To Wear'
, Stacy wears a beautiful lavender jade
Mason Kay
ring. It is the perfect ring to accompany her subtle
ensemble
as it brings an elegant and sweet lavender color and shine. Her dress and accessories are by Helmut Lang, Ann Taylor and BCBGeneration.
This ring has a simple yet refined and heavy 14k yellow gold design. The large
lavender jadeite jade oval stone
is set in a heavy mounting with amethyst trilliant side stones (Style #228757). The ring feels luxurious and important. Stacy, you wore it well.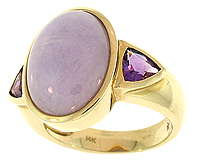 As usual The Great Stacy is right on. According to the 2011 Fall Pantone Color Report, the color phlox or purple is very trendy this fall especially paired with warmer colors like camel. Uh, mmm, Stacy is wearing a grayish color dress with a camel color belt and shoes AND a lavender/purple jade ring. Right on.
Lavender Jade, Green Jade, Ice Jade and Black Jade
are are all hot this season here in the U.S. and in Asia. These jade colors all fit very well into this and most fashion seasons. The popularity of
jade jewelry
has been on the increase for some time. Its natural, organic and earthy qualities blend well into a universal feeling that our world is finally learning to lean towards the true, the real and the genuine.
A genuine and smart jewelry investment is
natural, untreated Jadeite jade
. The East has known that for hundreds of years. It is a great investment for three reasons. Its value continues to increase and its future value is strong due to the Chinese love of the stone. Second, jade is one the most
durable gemstones
in the world, making it an investment that is acceptable to wear and enjoy.
And last, jade never goes out of style. Just ask Stacy.