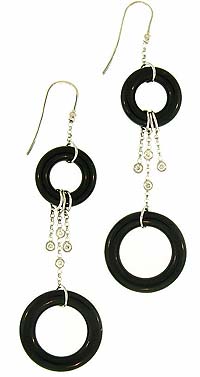 Yet another fashion season is upon us and black is a winner again. Two predominant colors seem to have prevailed this fall 2011 season- jewel green and
fabulous and familiar black
.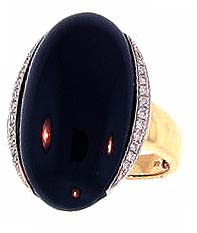 Even though black is a usual star and an essential in the fashion world, this fall season black is promoted to accessory star. On the runway black is an accent instead of a staple. Strong yet warm colors are dominant with black making a cameo appearance. Designers from Prada, Narciso Rodriguez, DKNY to Chloe have incorporated black in their designs, but black is the guest star and not the main event.
When black plays this softer and lighter starring role as an accessory,
fine jewelry
wins. Fine jewelry featuring
black stones
are extremely hot this season.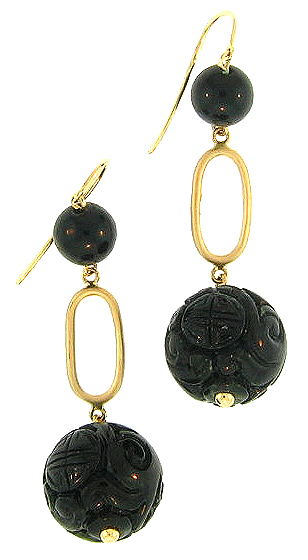 Unfortunately some consumers believe that onyx is their only choice of black stones in better jewelry. Worse yet, onyx is merely a semi-precious stone that is quite fragile and average. Also most 'black onyx' is treated and enhanced. Many do not realize that
black jade
is the ideal alternative.
First of all jade is
extremely durable
. It is this quality of hardness and durability that has assisted in defining jade as a gem. Fine and better jewelry with black stones is one of the most versatile jewelry styles; worn to work and off to play. For that kind of everyday wear in conjunction with the value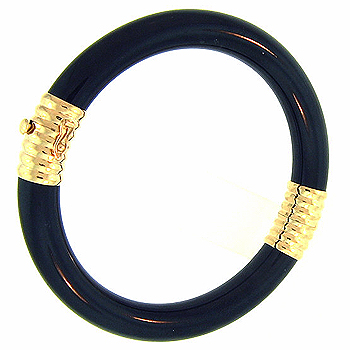 of better to
fine fashion jewelry
consumers should insist on
quality and durability
. There is no other choice than
black jade
.
Mason-Kay
's designers have developed a new line dedicated to the beauty of black jade -
The Midnight Jade Collection
. To the touch, black jade is a rich and sumptuous stone. It also feels wonderful against the skin. Just a few of the designs from this fabulous and successful
new collection
are shown in this post. Shown at the top, drop earrings featuring black jade 'rings' with 14k white gold and diamonds. Then a new black jade cocktail r
ing that has received much attention for its large and luxurious black jade oval stone set in a micro-set diamond semi bezel.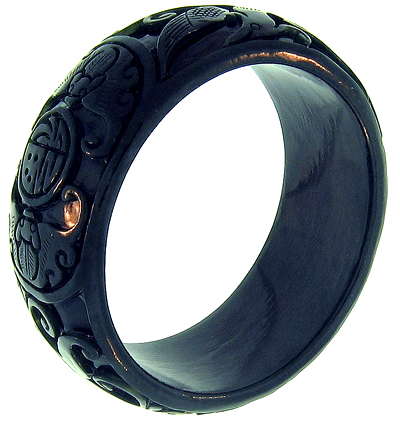 Next, a jade must. Bangle bracelets are one of the hottest and lasting trends we have seen in years. However, the bangle trend has endured for hundreds of years in China. That
valuable quality
of durability lends this exquisite stone to shapes and carvings like no other gem. The only other bangle bracelets made from natural materials you can find are wood, metals and shell. Jade bangles are revered and treasured. Pictured above is a 14k yellow gold fluted hinged black jade cylindrical bangle and to the left a solid black jade half round carved cuff bangle.
Mason-Kay
offers many different bangle designs.
The black jade bead necklace featured to the left is a beautiful long strand of 10mm beads with a 14k white gold
'Mason-Kay
' clasp.
Black jade beads
are a must for any jewelry collection. A standard that feels great to wear and is always appropriate. These days with the necklace layering fad as strong as it is, a strand of black jade beads is the perfect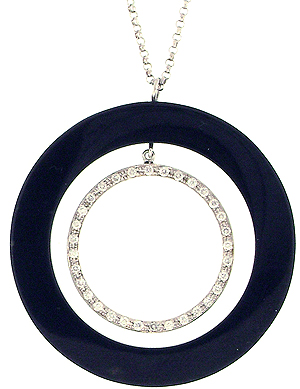 compliment to gold and silver chains and because of its organic nature it also accompanies silk & hemp cord, wood, and all other natural materials well.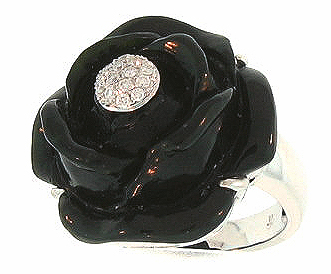 Mason-Kay
's newest designs from the Black Jade
Midnight Collection
are unique and distinctive. This black jade carved flower ring with a micro-set diamond center and the black jade circle pendant with an inner micro-set diamond circle are perfect examples of fresh and trendy designs that are making a splash in the fashion jewelry world. They also express how powerful and important black jade jewelry is this fall 2011 season.