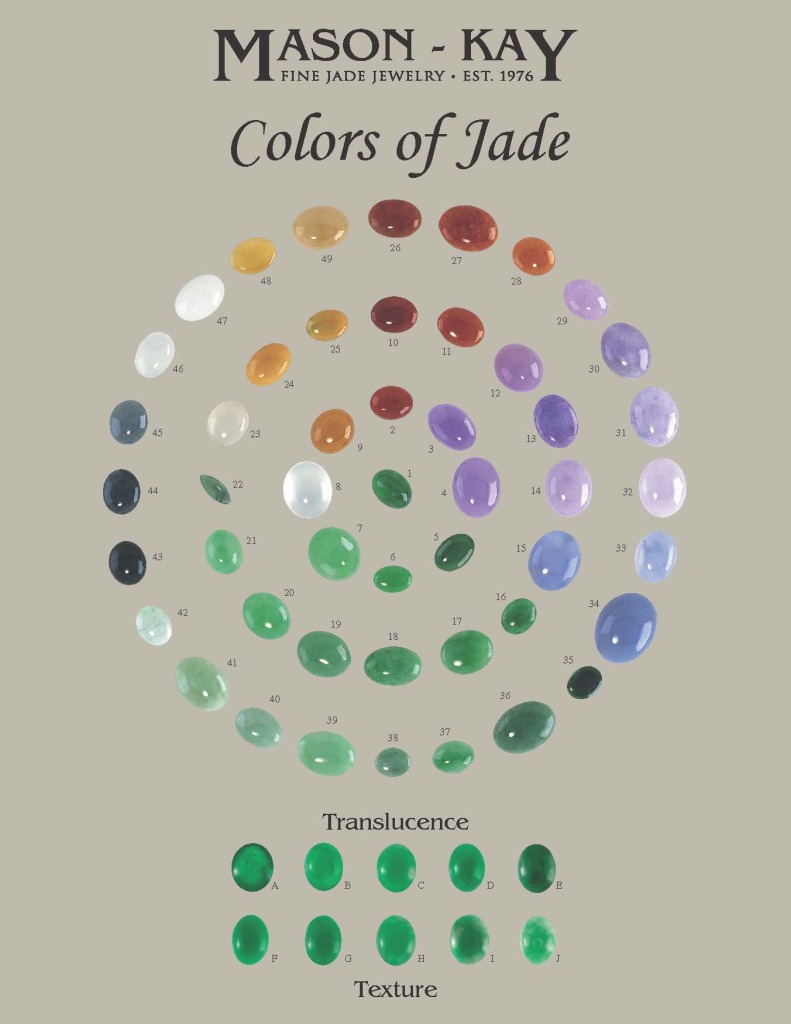 We have updated this renowned jade color chart to include a tremendous amount of technical and educational information about Jadeite. We have incorporated this color chart into a special packet full of Mason-Kay promotional information including our newest Designer Jade Jewelry Brochure, our Guide to Natural vs. Treated Jade Brochure, Chinese Art Symbols Brochure, Online Jade Showroom Guide and more!!!
Please call 800-722-7575 or email us at colorchart@masonkay.com for your complimentary packet.


Countless jewelry stores and appraisers have considered this

jade color wheel

as one of the most essential and effective jadeite jade tools in the jewelry industry. This

color chart

is renowned and valued worldwide.
- It greatly expands knowledge of the extensive color possibilities of jadeite jade
- Aids jewelers and appraisers with identification and jade edification
- Assists Mason-Kay and our customers with jade requests, stone matching & availability and general jade questions
- Reveals the glorious array of the Colors of Jadeite Jade - Green jade, lavender jade, red jade, yellow jade, white jade, black jade, grey jade, ice jade (colorless)
At Mason-Kay we pride ourselves on our superior customer service. Without this vital resource it would be virtually impossible to assist our customers to the proper extent. Often an incoming call from one of our valued customers begins with a request regarding a specific color on our chart.
We recently enhanced this color chart to include examples of translucency and texture, allowing for even greater descriptive possibilities. We are always trying to improve and enhance general jade knowledge and customer assistance.
Just a simple glance at this chart fills one with the certainty and understanding that jade is an extraordinary gemstone. Valued for centuries, it is no wonder that the popularity of jade is on the rise. Designers, celebrities and consumers have discovered the beauty, versatility and unique qualities of this remarkable gemstone.
"One of the rarest stones in the world, more precious than diamonds, coveted for its life-extending powers...as well as for its astonishing beauty - a stone that has shaped the destiny of nations and changed the lives of all who have worn it."
Taken from The Stone of Heaven: Unearthing the Secret History of Imperial Green Jade.