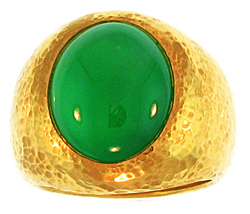 Mason-Kay Jade has been at the forefront of the jade jewelry industry for over 37 years. We are the most trusted name in jade jewelry in the U.S. and pride ourselves on our commitment to selling only natural, untreated jade. We have also become one to watch for our designer jade jewelry styles. We just returned from the JCK Show in Las Vegas where we displayed some of our newest and most popular jade designs. Below are some of the pieces you missed if you were unable to attend or missed our booth. The ring to the left is one of the finer green jade rings we showed this year, it is a beautiful, heavy 24K yellow gold men's ring with an exceptional fine green jade oval cab (style #316904).
Over the past several years we have enhanced our jewelry line by expanding our designer collections. We are fortunate that the designer Kristina has worked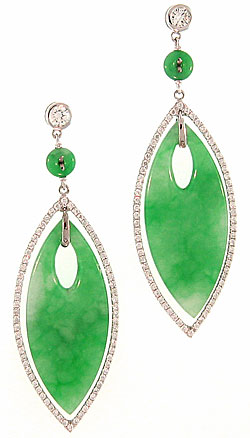 exclusively with Mason-Kay Jade. All the pieces shown below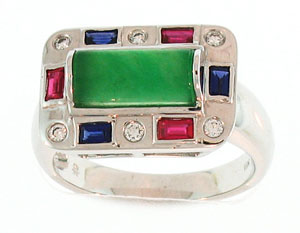 were designed by Kristina and just debuted at the Las Vegas show and received much attention and acclaim.

The drop earrings shown to the right are flat, marquis shaped green jade pieces set in an 18K white gold with a micro-set diamond frame and green jade disc accents and beautiful large diamond tops (style #318403). These earrings hang perfectly on the ear with just enough movement to enhance the sparkle of the diamonds and attract the eye to the beautiful and pleasing green stones.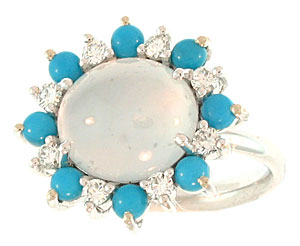 The ring to the left is a half cylindrical shaped, translucent green jade stone bezel set in 18K white gold with round diamonds, sapphire and ruby baguette accents (style #318441). The colored stones help to bring out the rich and warm green of the jade.
Turquoise and jade? What? Yes, this ring shown to the left has an ice jade oval center stone set with round turquoise and diamond accent stones set in 18K white gold (style #317963). And yes I did say ice jade. It is not moonstone as many people think upon viewing ice jade. However, ice jade is jade that is simply devoid of color and is considerably more valuable and durable than moonstone. A fine ice jade cabochon has a special depth and an unmistakable glow. In recent years ice jade has increased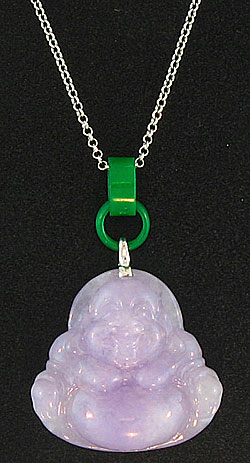 in popularity in the U.S. and especially in China.
These pieces are part of a lovely collection of green and lavender jade jewelry.The necklace to the left is a beautifully carved lavender jade buddha with a happy face and lovely, even lavender color topped with intense, continuous double green jade rings as the bail on a 14K white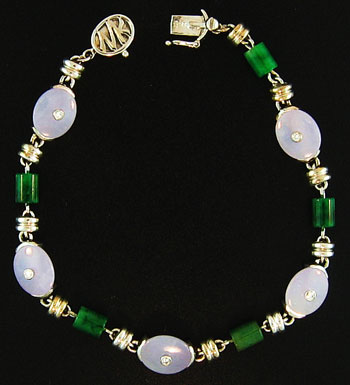 gold chain (style #318182).
This 14K white gold link bracelet to the right is comprised of five, unique oval lavender stones in semi-bezels set with diamond centers and five green jade cylindrical bead sections (style #318007). The green jade is a strong green color which plays well against the lavender.
This bracelet lays beautifully on the wrist and has just the right balance of weight and movement to make it very comfortable to wear and attractive for any occasion.
Green and lavender together are a classic jade combination. The soft and velvety nature of the lavender jade is only enriched by the strong a vivid green. And the rich and deep green is only augmented by its jade sibling.
The Chinese have long been inspired by the combination of green and lavender jade. Carvings that consist of both colors are quite coveted and cherished.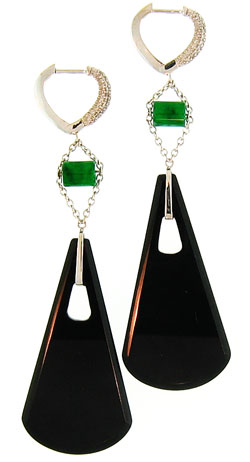 Drop earrings have been a hot trend for some time. Green jade drop earrings have been seen everywhere from the red carpet and award ceremonies to popular TV shows. In fact, we wrote an entire blog post all about green jade drop earrings.
The earrings here to the right are truly special as the red jade is quite intense in color. The red jade rings match perfectly to each other and to their cabochon tops. The 18K white gold setting with micro-set diamonds make them elegant yet playful. The green jade bead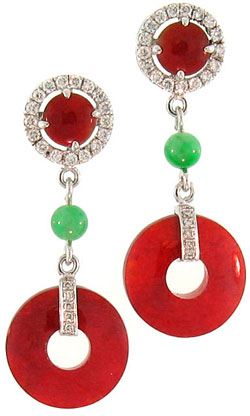 accents make the entire design 'pop' (style #318465).
The earrings to the left were yet another favorite at the show. They are a perfect example of fine jewelry that is fashion forward and can be worn daily or for a special occasion. They are comprised of uniquely geometric-shaped black jade pieces hung together with 14K white gold fittings, chain and micro-set diamond tops. Bright green jade cylindrical bead accent stones fuse this design into something special.
Jade designs by Kristina are sleek, elegant and creative. It is her goal to try and design pieces that enhance the intrinsically beautiful jade with artistic, trendy and fashionable styles. We are very pleased with the response to her pieces and our designer collections.
If you are interested in seeing more designs by Kristina for Mason-Kay Jade please email kris@masonkay.com.
Thank you.