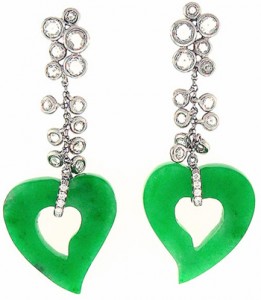 Just as the beauty of spring is emerging with all its glorious greens and pastels, so have the gorgeous colors of jade bloomed. Harper's Bazaar has even coined a new phrase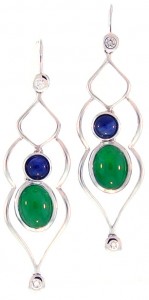 for these delicious colors - 'Saturated Sorbets'.
Some of the first trend makers to display these colors that the fashion world has embraced are of course celebrities. If you have watched any awards shows this spring season there is an undeniable trend emerging. Not just the greens and pastels of fashion, but fine fashion jewelry is a terrific indication of a strong color and style trend - and green jade drop earrings are the big winner.
We must begin with the Academy Awards. According to The American Gem Trade Association's EPrism Newsletter celebrities are 'Green With Envy' in terms of their fine jewelry choices for the occasion. Dramatic emerald and green jade drop earrings were the hottest look. The article goes on to say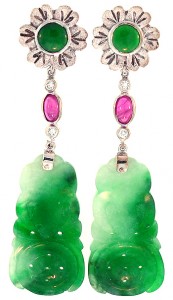 "Jade was also popular at Oscar satellite parties."
Stars like Reese Witherspoon, Emma Stone and Julianna Margulies have been enjoying their green jade drop earrings. In fact, Julianna Margulies is featured in the March 2012 issue of In Style Magazine, where she is pictured adorned in a pair of large beautifully carved green drop earrings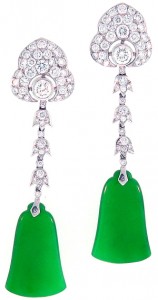 complimenting her mauve dress at the Golden Globe Awards. Then she appears again with five other stars in the April 2012 issue of In Style in a mini-article entitled 'Green Lanterns'. These 'Green Lanterns' of course referring to glowing green stone drop earrings of emeralds and jade. "Of all the precious colored gemstones - from rubies and sapphires to yellow and pink diamonds - none are seen as frequently as emeralds or...jade on Hollywood's loveliest lobes."

There is only one definitive source for jade jewelry- Mason-Kay Jade of course. All the beautiful green jade drop earrings shown are Mason-Kay Jade designs. Mason-Kay's extensive selection of loose jade stones are always a hot choice for fine jewelry designers across the globe. For better green earrings jade is the obvious choice for original style, trend and color.